HP PVC-Free Wallpaper is Greenguard Certified
Worry Free Solutions!
HP PVC-Free Wallpaper is Greenguard Certified. UL Environment's GREENGUARD Certification program helps manufacturers create–and helps buyers identify and trust–interior products and materials that have low chemical emissions, improving the quality of the air in which the products are used.  The organization certifies products  for clean, healthy air in hospitals, schools, and home environments.   When HP PVC-Free custom  wallpaper is  printed with waterbased latex inks, you have a product that is odour free.  Perfect for any interior environment.
Summer Wallpaper Special $3.99
Get those summer renovations going!
Until the end of August, we are offering an unbelievable price on HP PVC Free Wallpaper printed with HP Latex Inks.   When you call us,  mention that you saw this Post and take advantage of $3.99 per square foot special pricing!
Now both professional and DIY  interior designers can do incredibly unique home projects for an incredible price.
Custom wallpaper!
You can reach Paul or Stan at 1.604.882.9950 with any questions or to place an order.
Some more information and a video on the product can be found  here
Installation is a snap! Check out the installation instructions here
Wondering where to get artwork for your wallpaper or mural project?   The best option is to use self generated artwork, either vector images made in Adobe illustrator or photos shot from a high res camera.  Royalty Free and stock imagery is also a great option.   Sites like Shutterstock or istock photo offer an incredible range of  images at an affordable price.  If you feel like paying some money for something special, the sports and Entertainment images onGetty Images are impressive.
When selecting images, it is important to pay close attention to the terms of use. Also, If you are getting a free image somewhere always get permission from the originator of the image.
Also, you can email us at sales@towergraphics.ca to place an order.
Stretch Fabric Displays
One of the more exciting developments in the Large Format Digital Industry is the adoption of stretch fabric display systems.   They look professional and are a snap to assemble.    They are lightweight for transporting and easy to change out with new graphics.  Fabric is more durable and lightweight then traditional plastic display graphics saving future headaches.
We have been producing fabric for both customers and the trade using HP Latex inks and the results have been positive and well received.
We are excited to begin offering Triga Display Systems.   They are a great company out of California and supply some innovative high end display systems.  You can have a look at the systems at   www.trigasystems.com.
If you have any questions or need a quote, please contact us!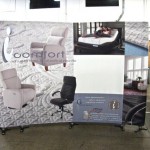 National Installation
We have had the opportunity to handle Nationwide installations for our customers. From Halifax to Vancouver and every province in between, we have done projects.
The security and convenience of the installs and the consistent print quality across many locations are the benefits.